5 Grilled Vegetable Recipes To Brighten Up Your BBQ
Back To News
Barbecue season is rapidly approaching but meat isn't the only thing that tastes great on a grill.
From veggie burgers to a vibrant salad, we've got all the delicious recipes for you that will get the grill glowing and your guests taste buds tingling – even the meat eaters!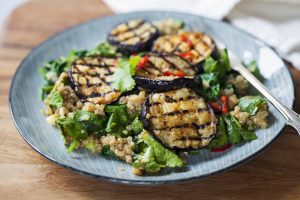 Caribbean Grilled Aubergine Recipe (Vegan)
Everybody knows how important marinating meat is before a barbecue, in order to maximise the taste however this isn't restricted to meat, as marinated aubergine is simply delicious and has a distinct smoky flavour which can impersonate the taste of meat. Get your hands dirty and marinate in the Maggie's pirate stew spice available on our website for an ultimate Caribbean mix.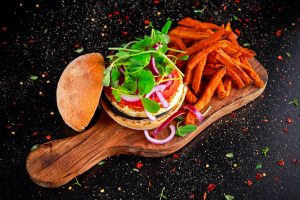 Portobello Mushroom and Halloumi Burger with Sticky Chilli Sauce
This delicious burger will satisfy all tastes, including the meat-eaters. You can find the original recipe for this mushroom burger by clicking here, but why not take it up a step and add some grilled halloumi, slices of red onion and lettuce? Finish by drizzling over a delicious sauce like the Maggie's Asake Chilli Sauce which you can find here.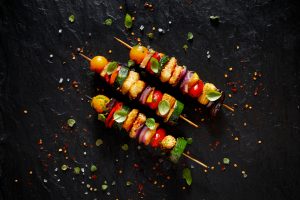 Halloumi Skewers
If a burger isn't quite your thing then why not cut up your halloumi and have it on a skewer instead? Everybody knows that once food is on a skewer, it automatically tastes better! Add your halloumi, mushrooms, sweet onions and peppers to a bag and pour in some chilli sauce to marinade. Leave for a few hours then thread onto skewers and grill.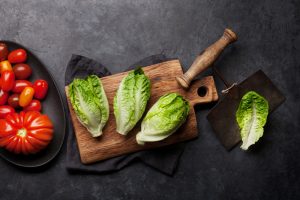 Hot Salad (Vegan)
Romaine lettuce can handle heat without falling apart which makes it such a super easy side dish. Simply prep it by cutting in half lengthwise, drizzle with olive oil, salt and pepper then grill both sides on the barbecue for a couple of minutes. During this, cut a lemon in half and grill too, so you can squeeze over the top. Place tomatoes, garlic, basil, olive oil, salt and pepper in a bowl, toss together then add to the top of the lettuce and serve!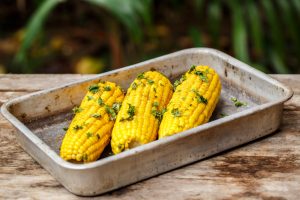 Grilled Corn on the Cob
There's no way we could forget such a staple item to the BBQ. Corn on the cob is a delicious side dish during barbecue season, especially when covered in butter. Mix it up and mix your softened butter with chopped parsley, oregano, thyme, sage and salt for a delicious herb butter and then once you've grilled your corn, spread.
Why not try giving your BBQ an extra kick with the delicious range of Maggie's chilli sauces and spices? Remember no BBQ is complete without a side salad though, and if you want to take your salad to the next level, we suggest you head over to our other recent blog.
Shop all your BBQ ingredients with us today and don't forget to share a snap with us on Instagram!