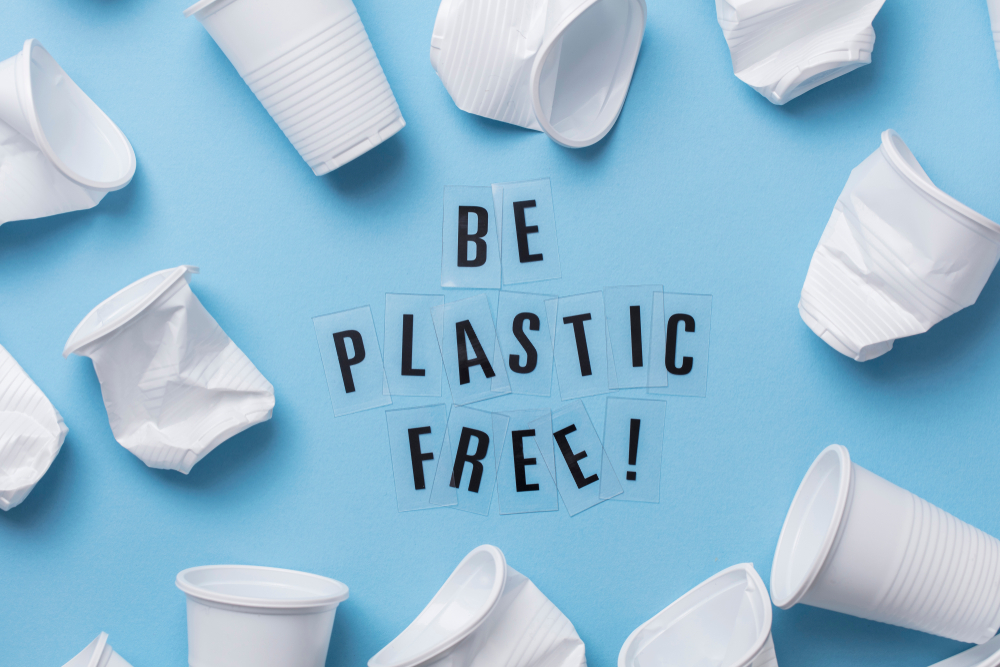 Single-use plastic products have become an integral part to our lives and daily habits. Over the past few years, durable plastic has been replaced with single-use plastic and consequently, it was registered a dramatic increase of plastic waste.
The plastic pollution crisis is an imminent threat against our environment. Research shows that only 9% of all plastic waste ever produced has been recycled. About 12% has been incinerated, while the rest — 79% — has accumulated in landfills, dumps or the natural environment.
Sustainability is at the core of our business and we aim to do our bit to save the environment and reduce our plastic use. As a result, we decided to remove any additional plastic to individual boxes and improve our product packaging to strengthen our plastic reduction efforts.
However, if you're wondering what you can do to reduce your plastic use, look no further!  Here are five useful tips that you can incorporate in your daily routine to cut down your plastic footprint:
1. Say goodbye to plastic straws
Big companies like Starbucks and American Airlines have pledged to ditch plastic straws from their packaging by 2020. Therefore, they have replaced plastic straws with recyclable straws using paper or other compostable materials.
You'll be happy to know there are plenty of alternatives to plastic straws that you can use to help reduce plastic pollution. For instance, you can opt for glass straws which are reusable and easy to wash or use paper straws that biodegrade easily. Another durable alternative to plastic straws is metal straws. You can reuse them as many times as you want and recycle the metal which helps reduce waste.
2. Take a cloth bag next time you're buying groceries
Single-use plastics like water bottles or shopping bags are things we use every day, but how much thought we put into the way they harm the planet? The Centers for Biological Diversity reports that harm to at least 267 different species has been attributed to plastic pollution in the oceans.
By replacing your single-use plastic bags with reusable and eco-friendly bags, you'll get more space in your cupboard as they can be folded easily and get a stronger material that will better support your shopping products while you reduce your plastic consumption. That's a win-win.
3. Buy your food from local suppliers
Your local butcher, grocer and market vendors will use less plastic packaging and get your food delivered in paper which in turn, will keep your food fresher and healthier. As wholesale greengrocers and catering suppliers, we supply fresh fruit, vegetables and pre-prepared produce across North West Wales and can get your food delivered to your door within minutes. You can see our new delivery schedule here.
4. Use reusable containers for your lunch
Besides saving money by packing your own lunches to work or school, using reusable containers are an eco-friendly option instead of buying take-out that use a lot of single-use plastic for their packaging.
The benefits of lunch containers don't stop here – There are a variety of styles and colours you can choose from to personalise your boxes and most of them are lightweight, flexible and use non-toxic materials like glass or stainless steel.
5. Say no to plastic bottles
According to National Geographic, plastic bottles and bottle caps rank as the third and fourth most collected plastic trash items in the Ocean Conservancy's annual September beach clean-ups in more than 100 countries.
To prevent that, you should carry your own reusable glass bottle that is sustainable and will help reduce our carbon footprint. In addition, choosing a reusable water bottle is better for your health and will save thousands of disposable water bottles going directly into the trash without being recycled.
Overall, incorporating these little habits into your routine are healthy and durable solutions that will help reduce your plastic consumption, conserve our oceans for future generations and ultimately, protect our planet.
At M Hughes, we want to help you lead a more sustainable lifestyle and we strive to reduce our plastic use. Get in touch with our team today for more details.