From the Ground Up is our feature that dishes the dirt on those fruits and vegetables that we don't want your taste buds to miss out on!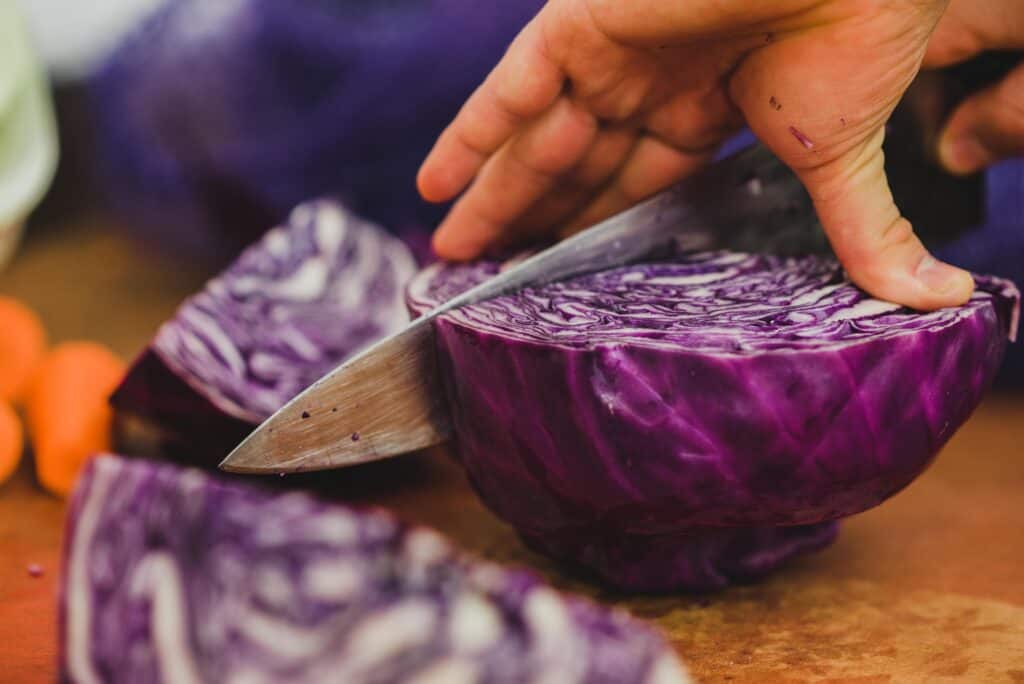 As we're featuring Red Cabbage in both our Festive Feast boxes, we thought now would be the ideal time to share how you can make the most of this brightly coloured vegetable.
What are they good for? 
Although the cabbage is a firm family favourite all year round on a roast dinner, the red cabbage really takes the spotlight in winter months as a great accompaniment to a warming casserole or the perfect addition to a Christmas dinner.
Added bonus; all varieties of cabbage are high vitamin C and low in calories!
What do they taste like?
Although similar in look to green cabbage, we think the flavour of a red cabbage is more earthy. With a slight peppery taste and more depth to it than white or green cabbage, it makes a great addition to salads and coleslaws. However, if like us you can't resist a hearty portion of braised red cabbage on your Christmas dinner, you'll know that once cooked it gets much sweeter.
How do you store, prepare and cook it?
To store: The best place to store your cabbage is the refrigerator. In fact, if properly stored it can last anywhere from 3 weeks to 2 months! Popping it in a sealable bag and in the vegetable drawer of your fridge is where it will keep at its freshest, but if you have already sliced it, ensure it's tightly wrapped in clingfilm too.
To prepare: Before eating in any form, remove any damaged or discoloured leaves, chop into quarters and remove the stem. 
To cook: Red cabbage can be eaten raw or cooked for a sweeter taste with braising being the most popular option, due to the little effort involved.
Our top tip would be to always cook red cabbage with a little vinegar to help preserve its fantastic colour!
Availability

Cabbage is in fact a plant and a seasonal one at that which is seeded in spring and harvested in late autumn – hence why it always makes an appearance on Christmas dinners!
Our Top Recipe
At M.Hughes, red cabbage screams Christmas! That's why our favourite recipe has to be a spiced, braised red cabbage and apple side dish. We can't get enough of the traditional sweet and sour combination and we couldn't think of a better accompaniment to a Christmas turkey.
Shredded red cabbage, bay leaves, cinnamon, water, caster sugar, cider vinegar and apples are all you'll need to master up this dish. Simply place all ingredients (except the apple) in a large saucepan, place over a medium heat and bring to the boil. Once boiled turn down the heat, add the apple and simmer until the cabbage is tender and the majority of the water has been absorbed resulting in an almost sticky texture.
Wanting to add red cabbage to your Christmas dinner shopping list? Do not fear, we've got it in both our Festive Feast and our Fuss Free Festive Box where we've even pre-sliced it for you ready to cook!