School mealtimes are an essential part of a child's wellbeing.
Research taken place has showed conclusively that eating a nutritious meal at lunch time can not only give a child health and education benefits but can also increase levels of concentration in children during afternoon lessons.
Now a prepped school lunchbox is all well and good but remember, not all of them are made the same! Parents must take care to ensure that children's nutritional needs are taken care of in a variety of ways, making sure that our little ones get all of the fruit and veggie goodness they need. Think less beige or brown, and more colour!
Fruit and veg
As well as providing heaps of sweet, mouthwateringly tasty new flavours in addition to a visual colour pallet for children to enjoy, fruit and vegetables provide many of the essential nutrients needed for a growing body. Rich in necessities like vitamin C and folic acid, these colourful goodies also contain plant substances which are said to reduce the risk of heart disease and some cancers and that's why we've crammed our Kids Lunchbox Selection full of them!
Long story short, make this part of your lunchbox prep ESSENTIAL.
https://www.instagram.com/p/B34qvM0AAb7/?utm_source=ig_web_copy_link
Yoghurt
Yoghurts have long been a staple in kids' lunchboxes, and for good reason! These creamy little pots of joy are crammed with both macronutrients and micronutrients, ranging from fatty acids, protein and lactose to calcium, potassium, zinc, magnesium, vitamin A, vitamin B-5 and vitamin B-12. Another perk is that you shouldn't have to do much persuading to get your kids to eat them as they already taste like dessert anyway!
Check out our range of fruity yoghurts in our dairy section, which can be found here.
Eggs
Eggs make for an easy lunchtime, or even general addition due to a child's diet due to their versatility of both preparation, presentation and taste. Have you ever met anyone who's become sick of eggs?! Not content to just provide a truly unique experience of taste and texture, eggs are also a vital source of healthy fats, as well as protein, Vitamins, A, D, E, B12 and choline!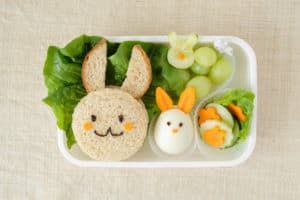 Why not get a healthy head start on the school pack with our Kids Lunchbox Selection? It's packed full of all your weekly essentials, saving you a job – and making sure the kids are provided with all their suitable nutrients in the process!