It's National Pizza Day but put down that phone! We've got the recipes for the ultimate Fakeaway pizzas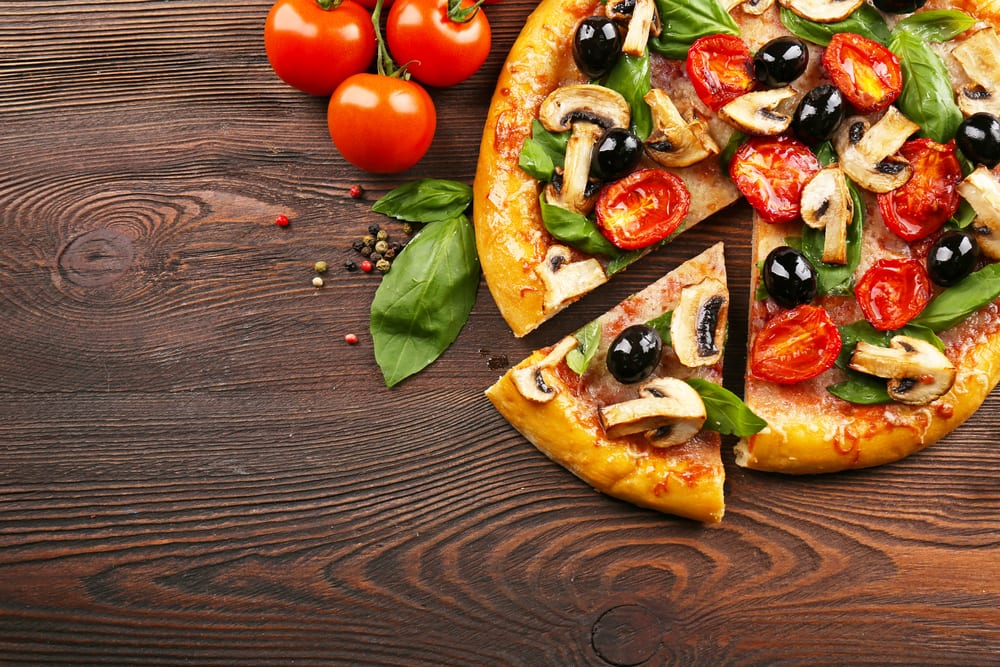 Rustic, home-made, and packed full of fresh vegetables; these Fakeaway's are cheaper and healthier but just as delicious as all your takeaway favourites. These pizzas all use the same sauce and come to life through scrumptious toppings and cheese.
For the Sauce 
Ingredients:
175g (6 oz) tomatoes
5 tbsp extra virgin olive oil
2 cloves garlic, minced
salt and freshly ground black pepper to taste
1/2 tbsp oregano
1/2 tbs basil
1/2 tsp rosemary
300ml (10 fl oz) water
Method:
1. Dip tomatoes in boiling water for a few minutes, then drain, and slip off the skins.
2. Blend the skinned tomatoes in a food processor and sieve to remove the seeds.
3. Add blended tomatoes to a small pan and heat until the tomato pulp has reduced to a thick paste. Then add extra virgin olive oil, stirring to combine.
4. Finally add garlic, rosemary, oregano, basil, and water, cooking to reduce until the mixture is at your preferred pizza sauce consistency.
Veggie EXTREME 
A classic vegetable pizza featuring all your favourites plus crispy broccoli for a little extra pizzazz (get it?).
Ingredients:
Mozzarella
Onions
Peppers
Mushrooms
Tomatoes
Broccoli
Heaven Is Veg Pizza 
Made with goat's cheese instead of your traditional mozzarella, this creamy pizza is as decadent as it is delicious.
Ingredients:
Goats Cheese
Cherry Tomatoes
Caramelised Red Onions
Rocket
Asparagus
Florentine 
An Italian favourite full of flavour and topped with a fried egg (or two)!
Ingredients: 
Mozzarella
Caramelised Red Onions
Cherry Tomatoes
Basil
Mushrooms
Eggs
TOP TIP: For the perfect Florentine, bake your pizza until it's almost done and add the eggs right at the very end, when there's only 2-3 minutes of cooking time left. Return to the oven and cook until the eggs are set and the pizza is golden.
There are plenty of simple pizza dough recipes available online but we certainly won't judge if you buy pre-made pizza dough and let the toppings do the talking. Alternatively, why not try making your own healthy vegetable pizza crusts from cauliflower, courgette, or even butternut squash!