Spooky Halloween Snacks Kids Can Make This Halloween
Back To News
It's a fact that kids love Halloween. From the dressing up to the Halloween parties and trick-or-treating, there's lots of fun things to be getting involved with.
One other task you can let the kids get involved with is the making of some spooky snacks. Not all Halloween snacks need to be packed with sugar, so we've gathered some of our favourite scary recipes for you to make together.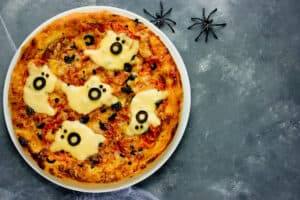 Ghost Pizza
If you're looking for a delicious Halloween dinner before your little one heads out to their Halloween party or trick-or-treating, then this ghost pizza is perfect. Create your homemade pizza as normal, with all the toppings you desire too but before you put into the oven, add a thick slice of cheese across the pizza. Then add a small piece of black chopped olive to the top to create the face. Once cooked, the cheese should melt to make a great ghost shape!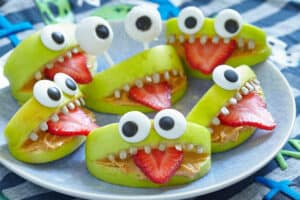 Apple Monsters
If you're having any little monsters of your own over for a Halloween party, you should definitely make these apple monsters as a tasty snack. Just core and slice and apple then spread a thick layer of peanut butter in between two slices and use a sliced strawberry to create a tongue. Eyes can be made from chocolate buttons or you can purchase icing eyes. For the teeth, use either nuts or mini marshmallows.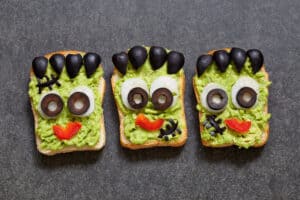 Fr'avoca'nstien toast
If you're looking for a great breakfast or snack idea this Halloween, then why not try recreating these Frankenstein faces made from Avocado toast! Simple spread mashed avocado across a piece of toast then use black olives and a chunk of red pepper, or any other similar coloured vegetables for that matter, to create the hair and smile of these fantastic faces.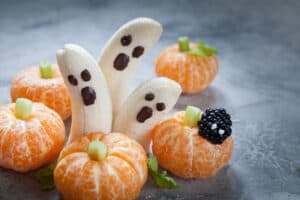 Banana Ghosts & Clementine Pumpkins
These super simple little ghosts may only take minutes to make, but they're guaranteed to leave a lasting impression on your little Halloween guests. Just melt a small amount of chocolate, chop a banana in half and then help your child to drip the melted chocolate on to make the ghost's face. If you have any left-over melted chocolate and some white chocolate to hand, then you could also use this to create some eyeballs on grapes like we have below. For the pumpkins, simply peel some clementines with your little helper and then add a small piece of chopped celery to the top to recreate the stalk.
If you do happen to make any of our scary snacks, be sure to share them with us on Instagram using the hashtag #CuttingVegRecipes!