It's time to get the picnic basket out and enjoy some all-important time out doors with the family, however we know that finding tasty snacks for children that are also easy to make can be quite difficult.
That's why we've gathered a few of our favourite snack recipes that you can whip up in minutes and also easily carry in your picnic basket.
Hummus is a great snack all year round; it's quick and easy to make, low-cost and super nutritious and not only this, but kids love it. It can be stored in the fridge for up to 5 days or frozen for up to a month, so if the weather lets you down you can save it for another day!  Crudités that are delicious when dipped in hummus are carrots, celery sticks, peppers and cucumber.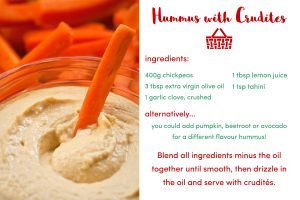 If you're looking for a fruity drink that the kids will love, then these mini smoothies are perfect. Our favourite flavours are strawberry and raspberry, banana or mango and coconut but you can combine any of your favourite fruits! Just pour the milkshake into a little milk bottle and pop in your basket.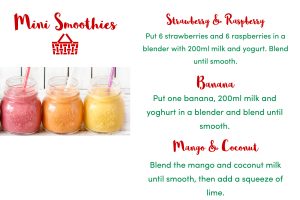 If milkshakes aren't your thing then why not try this homemade pink lemonade recipe that is guaranteed to cool you down on a hot day. This recipe may take a little more time and effort than the others but it's definitely worth it. You'll need some zesty lemons and some plump raspberries for this one so don't forget to add them to your shopping basket today.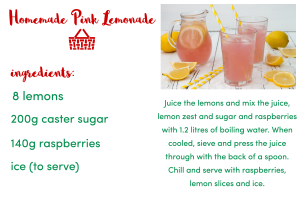 Sausage rolls are a picnic staple and although we've featured this recipe on our blog before, we can't resist talking about these again. The hidden carrots and courgette in them will up your child's vegetable intake without them even knowing!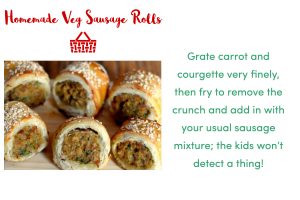 You can't have a picnic without a sandwich but what's great is even the kids can get involved with making this one! This pressed picnic sandwich will not only be super tasty, but it won't take up too much room in your picnic basket and feeds all the family!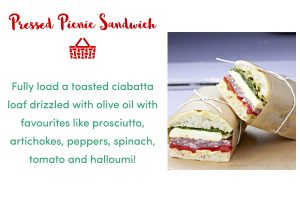 You can shop the ingredients featured in these fantastic recipes on our website now by clicking here. Don't forget to share your picnic snaps with us on Instagram!