Wimbledon is about to take over for the next fortnight and everybody knows that enjoying strawberries and cream during this time is a tradition not to be missed.
In fact, it's been reported that 28,000kg of English Strawberries are consumed each year during the tournament! With that in mind, we're giving you some of our favourite super summery strawberry recipes for you to serve up this year.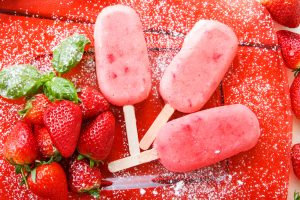 Strawberries and Cream Ice Lollies
Take a twist on tradition with this recipe. Ice lollies are a guaranteed favourite for children and adults alike, especially during the warmer weather. Just place halved strawberries, milk (or coconut milk for a dairy-free alternative) and vanilla extract in a blender and blitz until smooth. Sieve the mixture into a jug, pour into lolly moulds and place lolly sticks in before freezing.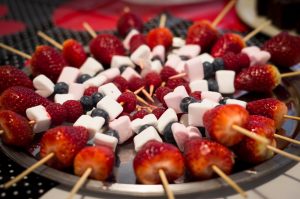 Smoky Strawberry Skewers
You might not believe us, but strawberries can taste fantastic on a BBQ. Simply sprinkle sugar onto the strawberries when they're on a skewer and heat over the BBQ grill for 3-4 minutes until the sugar begins to caramelise. Serve with fresh cream or melted chocolate for dipping for a delicious dessert treat. You could even try adding marshmallows or other berries by purchasing our berry bundle.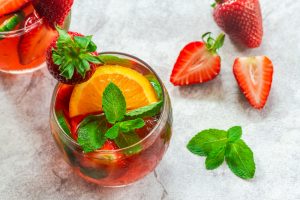 Very Berry Pimm's
You can't have Wimbledon without Pimm's and equally, you can't have Pimm's without strawberries! Pimm's is the perfect drink that is sure to be a crowd pleaser at your garden party. Add fresh mint leaves, slices of strawberry and ice before topping up with Pimm's.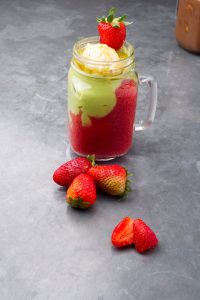 Avocado and Strawberry Ice Cups
Avocado is a great alternative to your usual cream products. For this recipe, put 200g of chopped ripe strawberries into a blender with one chopped avocado, 2 tsp of balsamic vinegar and ½ tsp of vanilla extract. Blend to a smooth texture and then pour into containers, top with strawberries and freeze. A refreshing, and fruity, alternative for your usual ice cream.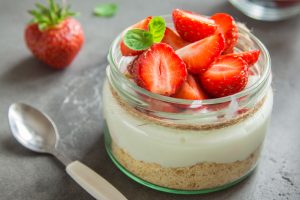 Strawberries & Cream Cheesecake Jars
Revamp your usual strawberry cheesecake by making it in separate jars. Smash or blitz 200g of biscuits until fine crumbs, then divide between the jars and compress. Whisk together 200g cream cheese with 200ml double cream, 5 tbsp of icing sugar and 2 tsp vanilla extract. Tip half the strawberries and another tbsp of icing sugar into a separate bowl and crush with a fork to form a puree. Ripple this through the cream and then divide and pour on top of the biscuit base. Top with the remaining strawberry halves and you've made yourself a tasty, portable cheesecake!
Add strawberries to your basket today or purchase our berry bundle for just £5!
However it is you choose to use your strawberries, don't forget to share a snap with us on Instagram using the hashtag #CuttingVegRecipes.