Whether it's your go-to work lunch, your dream dinner during a warmer evening or just the easiest way for you to eat healthily, salads can be enjoyed in hundreds of different ways!
Here at M.Hughes, we are advocates of eating healthy but even we know how difficult it can be to stay motivated and on track. A salad is the perfect way to improve your diet if you choose the ingredients that you actually enjoy eating, but if you're still struggling then we've got some top tips for you to take your salad to the next level.
Dress it up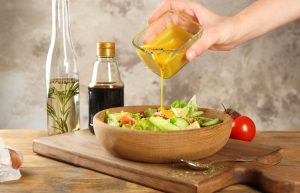 The best salads are those bursting with flavour. That's why we recommend you add spices like turmeric, coriander or paprika for a winning salad. Not only will spice switch it up, but it also brings lots of health properties like natural anti-inflammatories. You should also try adding a pinch of salt and pepper as not only will it taste better but it will look better too as they help fresh produce shine! Finally, they say sauce brings any dish together and that's certainly true of a salad so toss your salad in a bowl or balsamic dressing, mustard or extra virgin olive oil.
Don't fear the fat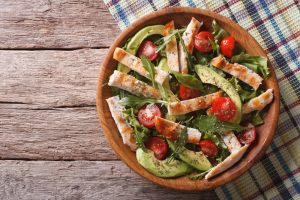 If you order a salad in a restaurant, you'll find they add fats like bacon, salmon, avocado or cheese into the dish in order to create more flavour, so don't be afraid to add it in yourself. You may find you'll enjoy your salad a lot more with those ingredients added in and therefore eating it won't feel like a chore. You could also combine hot proteins like steak or chicken in to your salad to really switch it up and then add mixed seeds as a topping to make lunch time more exciting.
Get fruity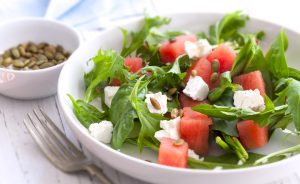 It might be controversial but we're yet to find a fruit that doesn't work to some degree in a salad! Our favourite combination is watermelon and feta, which creates a refreshing twist so try it for yourself today. We now also sell a Mixed Fruit and Salad Box, so you can get all your usual salad ingredients but with some fruity extras!
Experiment
Salads are meant to be a fun way of combining multiple ingredients in order to create a delicious dish. A popular trend at the moment is to create a 'ribbon salad' but don't worry, it's a lot simpler than you think! All you need is a vegetable peeler or spiraliser. Then, use these to shave vegetables like carrots or courgette into 'ribbons' and combine with your favourite dressings as usual.
As well as our new Mixed Fruit and Salad Box, we also have our Original Salad Box and a new Mixed Vegetable and Salad Box. You can shop all the boxes here, or you can create your own today, so you'll have all the ingredients you desire.