We're seeing a huge rise in meat free meals at the moment which is why we love our special homemade gnocci recipe!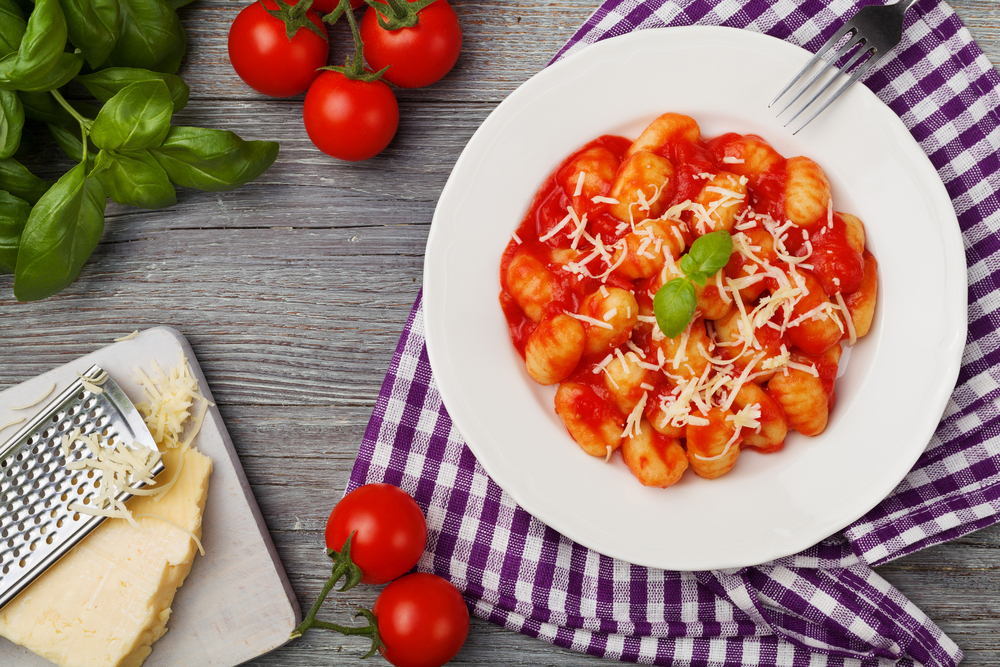 Gnocci is a popular restaurant choice, but not many know you can make it easily from scratch! We've switched regular potatoes for sweet ones in order to lighten up this dish and add a splash of colour. All the vegetables included in this recipe can be found on our site too!
Serving Size: 4
Ingredients:
Sauce:
Method:
1. Preheat the oven to 400F (200C). Prick the sweet potato with a fork several times and then bake for 40 minutes or alternatively, microwave for 5.
2. After the potato has cooled for 5 minutes, peel off the skin and mash in a large bowl until smooth and add in the egg and flour. Knead the dough until it is firm and add the flour as needed to ensure the dough is not sticky.
3. Roll the dough into a ball and divide into four equal parts. Take one part and roll it into a long rope about 1 inch wide and slice into 1cm rectangles. Roll each piece down an overturned fork so they become serrated into a corkscrew shape and set to the side.
4. For the sauce, add olive oil to a high sided pan over a medium heat. Add parsley, oregano, rosemary and basil and cook until all the herbs become crisp. After this, remove the herbs and discard of them, before adding in the onions and garlic. Cook until the onions are transparent.
5. Crush the tomatoes in your hand and add the juice into the pan. Season with black pepper and then leave to simmer for 30-40 minutes until the sauce reduces and thickens, stirring occasionally.
6. Whilst the sauce simmers, bring a large pot of water to boil, and then add the gnocchi. Boil until the gnocchi floats to the top and then drain in a colander. Add the gnocchi to the sauce and serve immediately with fresh basil leaves to garnish.
If you happen to make this delicious dish, don't forget to share a picture with us by tagging us @mhughes_sons and using the hashtag #CuttingVegRecipes.