For years the Hughes family have reminisced of our Mexican holiday memories, so, we have decided we couldn't think of a better way to launch our monthly featured box than with a Fajita Fiesta.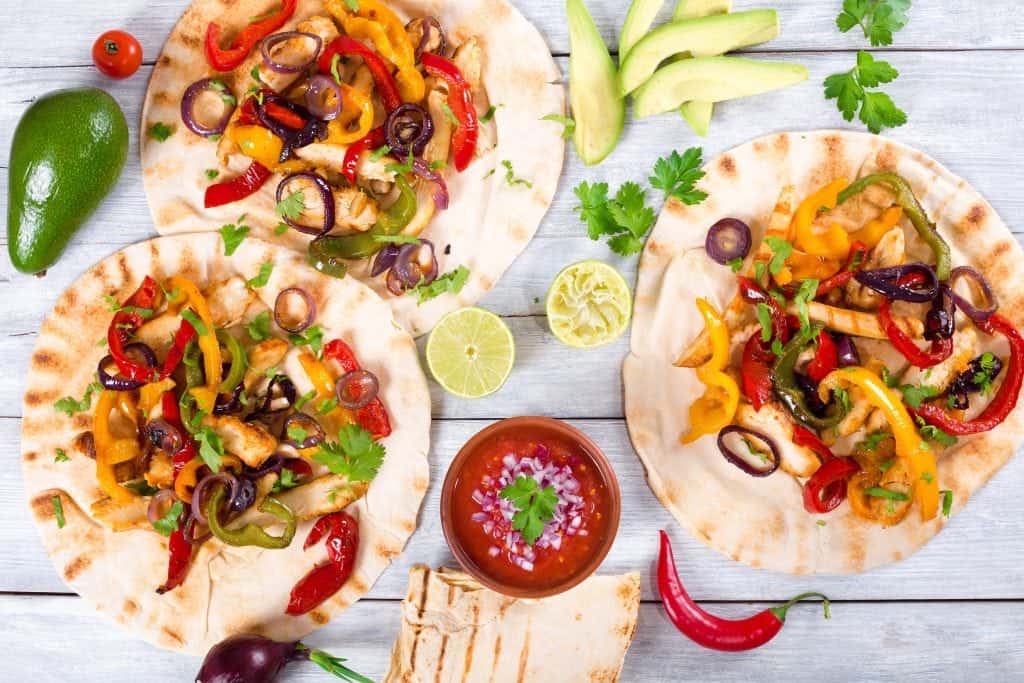 Known for its richness and flavours, Mexican dishes are surprisingly healthy but full of fun. Wanting to incorporate the authenticity of Mexican cuisine into your home, we couldn't resist featuring funky fajitas in this month's box.
When it comes to Mexican food, it's all in the spices and flavours. With this month's Mexican Mania box, you can enjoy the country's tasty cuisine in the form of fajitas. Have your very own flavour fiesta, from the comfort of your own home. A simple, vibrant meal that the family will love.
In your box:
1 Red Onion
1 Red Pepper
1 Yellow Pepper
1 Chilli
1 tbsp Paprika
1 tbsp Ground Coriander
Pinch of Ground Cumin
2 Medium Garlic Cloves
4 tbsp Olive Oil
1 Lime
Extras:
2 Large Chicken Breasts or meat of your choice
6 Tortillas
Mixed salad – Why not take a look at our salad box selection
Fresh salsa – why not try whipping up your own with fresh tomatoes, red onion, lime juice and garlic!
How to:
Wrap up the tortillas in foil and then heat the oven to 200C/180C fan/gas mark 6.
Mix the paprika, coriander, cumin, garlic, olive oil and juice of 1 lime into a bowl with a generous pinching of salt and pepper.
Once you have sliced the onions, chilli and peppers thinly, coat them and the chicken breasts in the spice marinade you have made.
Heat olive oil in a pan and add the chicken and marinade into the pan when it is smoking hot.
Keep on stirring the mixture around the pan over a high heat, to ensure it doesn't stick. Continue until the chicken and vegetables appear charred.
Ensure your chicken is cooked by cutting the largest piece in half. Continue cooking if not quite done.
Place the foiled tortillas into the oven for a few minutes to heat. Serve with a bag of mixed salad and fresh salsa.
You can buy your Mexican Mania box here
We hope you enjoy your funky fajitas, share your snaps on Facebook and Instagram using #CuttingVegRecipes